Buy One Integrated Control & Automation System, Get a Helpdesk as a Bonus
IT support and Helpdesk collaboration saves money and time as more A/V technology is integrated into the classroom environment.
Facility News
Whitlock Multiplies HQ Collaboration with Tech Refresh
7 Attributes to Identify Your Desired Workspace
Here's Why Office Space Matters to Company Culture
The 2016 Summer Olympics Are Swimming in Technology
Facility Resource
Automation 101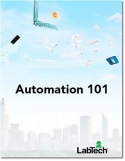 Automation in your IT department, if done right, can save time, money, and headaches.
Joy Zaccaria
·
December 6, 2012
The answers from the helpdesk that get a college class back up and running and the automatic monitoring of a facility's collection of A/V and IT gear go hand-in-hand. With a control and automation system in place, the replacement of a projector lamp, or other maintenance issue, is anticipated and resolved without an instructor or corporate presenter realizing it was almost time for a new one. While at the same time, the reassurance of knowing there is a knowledgeable tech on the other end of the instant message session or session initiation protocol (SIP) call goes a long way for an instructor pressing every button and the projector still doesn't turn on.
Turn on the HelpDesk
Making a helpdesk functional is a matter of linking components that are already in place on a network. The requirement for an A/V integrator is to have a working knowledge of how to make that happen. "At the minimum there is the ability for the helpdesk tech to see what the problem is through the control system from a remote location," says Rod Andrewson, manager of Engineering at CCS Presentation Systems, based in Scottsdale, AZ. For most clients in the corporate or higher education space, the backbone has already been installed to provide audio, SIP and video support. "We just have to know how to manage it and how to set up the interaction between the IT department and the helpdesk support team," he says.
From the perspective of a manufacturer like Extron, the helpdesk function is another layer in the cake when end-users are making decisions about what technology goes in their facility. "This convergence of IP and A/V interests has a great benefit when it comes to resource management and monitoring," says Derek Joncas, product marketing manager for Extron. "Being able to justify the right technology, like Extron's GlobalViewer Enterprise, so meetings and classes run smoothly, is the real goal of these folks when it comes to their boardrooms, presentation spaces or communication spaces." Day-to-day, there is an expectation that A/V devices will work in any given room. "They are just as prevalent as chairs, desks and tables now and have become an essential part of everyone's meeting," says Joncas.
End users are seeing the value in and requesting helpdesk support more and more. "The challenge is that, in order to have an effective helpdesk solution, end users need to make sure that the A/V and IT departments are fully integrated," says Jeff Kindig, vice president of Marketing Strategy at AMX. "It is becoming obvious that collaboration between these two departments is essential in providing the best experience for the end user." Plus coordination eliminates issues when it comes time to respond quickly and efficiently to requests.

In the education market, the helpdesk is particularly valuable considering the constant influx of faculty and students to campus on a regular basis and the sheer volume of rooms that need technical support. Resource Management Suite (RMS) Enterprise from AMX is software for IT and A/V managers that provides remote management capabilities for assets and building systems on the A/V and IT network system.
Latest Resource
Building an AV Strategy in the New Era of AV, IT and the Cloud
Kramer shows how its solutions can help build a foundation for a new AV strategy that supports the convergence of IT and migration to the cloud.