10 AVB Products For High Quality Digital Audio And Video Control
Audio Video Bridging is the new standard for data transport and here are the components that make it possible.
Photos & Slideshow
10 AVB Products For High Quality Digital Audio And Video Control
Software News
Why I'm Rebelling Against the Digital Signage Status Quo
HARMAN and Microsoft Are Bringing Office into the Car
Conducting Workplace Investigations with Case Management Software
This Video Wall Helps Corporate Retreat in Paris Facilitate Collaboration
Software Resource
Automation 101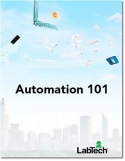 Automation in your IT department, if done right, can save time, money, and headaches.
Curtis Emery
·
July 30, 2012
IT managers thinking about integrating audio and video into their data management systems are looking to audio video bridging (AVB) as a standard for efficient Ethernet based data transport. AVB marks a new wave in data streaming over an Ethernet connection.
AVB is an IEEE 802.1 standard that ensures high quality, low latency and time synchronized transfer of digital audio and video data through an Ethernet port. With AVB, products are able to send multiple audio and video channels at the same time through one AVB capable high-speed Ethernet connection. In the world of AVB, AVnu is on the forefront of AVB education and expansion of the standard. AVnu is an organization of professionals interested in promoting the use of AVB standards and the purchase of AVB compatible devices. This AVB advocacy group was founded by Broadcom, Cisco, Harman, Intel, and Xilinx, and is promoted by a variety of audio and video technology companies. Along with general promotion, AVnu also works to create AVB compliance tests and procedures to continue the research behind AVB and ensure that the AVB technology in today's market is as efficient as possible.
AVB standard connections offer the most up-to-date control over digital audio and video. With a high-speed Ethernet connection, audio and video data can be transported in real time at the highest quality.
Through software and hardware upgrades, any Ethernet network can be converted into an AVB compatible environment. From a simple upgrade, such as an AVB options card installation, to the integration of devices which comply with the AVB standard, the following products show-off the different options IT integrators have for upgrading their Ethernet networks to support Audio Video Bridging.
Latest Resource
Everything the Technology Decision Maker Needs to Know About Microphones
Our document will give you the info you need to install the right microphones in the boardroom, lecture hall and on stage.