12 Interactive and Multi-touch Displays at InfoComm 2012
Interactive and multi-touch and collaborative displays at InfoComm 2012.
Photos & Slideshow
12 Interactive and Multi-touch Displays at InfoComm 2012
Digital Signage News
27 Digital Signage Projects Win Gold, Silver & Bronze Apex Awards at DSE 2016
Canadian Financial Firm Invests in a Total AV System Upgrade
Acquia Boston Headquarters Opens with a Massive AV Installation
Lease or Buy: Visualization Strategies for Your Future Investment
Digital Signage Resource
Meet the Highest IT Standards for Enterprise AV: 2nd Edition of Enterprise Magazine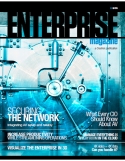 Learn about world-class Enterprise Management Solutions with this FREE download from Crestron that can help you solve the AV and IT integration problems you face every day.
TD Staff
·
June 19, 2012
Interactive and collaborative touch software products such as Synthesis from Anacore and Tidebreak are enabling display manufacturers like Mitsubishi, Sharp and many others to offer feature-rich displays.
Where end users take the applications from here is what is going to be really interesting to see. Watch for some of the case studies that we will be featuring soon.
Here's a roundup of 12 that made an impression on us.
Latest Resource
Everything the Technology Decision Maker Needs to Know About Microphones
Our document will give you the info you need to install the right microphones in the boardroom, lecture hall and on stage.