AVI-SPL and Prysm to Host Webinar on Laser Phosphor Displays
The two companies will talk about the advantages of LPDs in commercial environments.
Digital Signage News
27 Digital Signage Projects Win Gold, Silver & Bronze Apex Awards at DSE 2016
Canadian Financial Firm Invests in a Total AV System Upgrade
Acquia Boston Headquarters Opens with a Massive AV Installation
Lease or Buy: Visualization Strategies for Your Future Investment
Digital Signage Resource
Meet the Highest IT Standards for Enterprise AV: 2nd Edition of Enterprise Magazine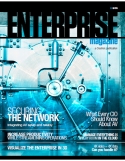 Learn about world-class Enterprise Management Solutions with this FREE download from Crestron that can help you solve the AV and IT integration problems you face every day.
TD Staff
·
May 9, 2012
What are Laser Phosphor Displays (LPDs) and why should you care? If you can't answer those questions, you may want to sign up for this webinar.
AVI-SPL and Prysm are collaborating on a one-hour webinar on the advantages of Laser Phosphor Displays (LPDs) in commercial environments. The free event, titled "Why Laser Phosphor Displays are Better for Commercial Applications," will be held on Wednesday, May 16 at 1:00 p.m. (EST).
Jason Litt, Prysm's director of sales and design, will host the webinar. Topics will include an introduction to the technology behind LPDs, as well as the benefits of LPDs in various commercial applications. Litt will also talk about the tech's operational and economic advantages.

"Some improvements from the traditional LCD include lower energy usage, reduced costs and enhanced visual performance," says Litt. "It's not about the technology. It's about the experience."
To register for "Why Laser Phosphor Displays are Better for Commercial Applications," visit the AVI-SPL website.
Latest Resource
Everything the Technology Decision Maker Needs to Know About Microphones
Our document will give you the info you need to install the right microphones in the boardroom, lecture hall and on stage.