Content Management Software for Your Company's Digital Signage
Don't forget you have to make sure your digital signage says what you want, when you want and how you want.
Digital Signage News
27 Digital Signage Projects Win Gold, Silver & Bronze Apex Awards at DSE 2016
Canadian Financial Firm Invests in a Total AV System Upgrade
Acquia Boston Headquarters Opens with a Massive AV Installation
Lease or Buy: Visualization Strategies for Your Future Investment
Digital Signage Resource
Meet the Highest IT Standards for Enterprise AV: 2nd Edition of Enterprise Magazine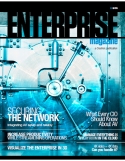 Learn about world-class Enterprise Management Solutions with this FREE download from Crestron that can help you solve the AV and IT integration problems you face every day.
Daniel P. Dern
·
April 20, 2012
Digital signage can easily be used as a simple replacement for static print-like images — but that's barely scratching the surface of its applications and benefits.
Like computer monitors and large-screen TVs — which, after all, are digital signage's techno-cousins — these displays can show a dynamically changing mix of everything from calendar events and news crawls to "slide shows," weather/traffic/news video feeds from your own or broadcast media sources, per-location announcements and advertisements… even pre-empt or overlay scheduled content for urgent or emergency announcements.
To take fullest advantage of digital signage, one tool you need is a digital signage content management system (DSCMS), to, as the name implies, create and manage the various types of information you want sent to your digital signage displays. Indeed, to create even the simplest content, you need to use some program — perhaps PowerPoint or Word.

—Visix's Announce content management software.

But for more sophisticated signage content — and better ease of use, including the abilities like letting employees or students be able to add content without gaining higher levels of administrative control over content — you want a CMS built for use with digital signage.
What is a Digital Signage CMS?
Providing content for a digital signage network involves several different software tasks, including:
design (of content templates, graphics and icons and for specific pages and images)
content management/distribution, which includes organizing content libraries and other sources, handling administrative/user permissions, adding/editing content, etc.
playback — sending content to the displays.
"We see digital signage CMS as the control aspect, from a central management position," says Clive Fort, director of Product Management, Scala. "It's not just about the content, it's
Latest Resource
Everything the Technology Decision Maker Needs to Know About Microphones
Our document will give you the info you need to install the right microphones in the boardroom, lecture hall and on stage.