DNP's Zenith Delivers Big Screen to the Boardroom
DNP screen is designed for rear-projection installations that use high-output projectors.
Digital Signage News
27 Digital Signage Projects Win Gold, Silver & Bronze Apex Awards at DSE 2016
Canadian Financial Firm Invests in a Total AV System Upgrade
Acquia Boston Headquarters Opens with a Massive AV Installation
Lease or Buy: Visualization Strategies for Your Future Investment
Digital Signage Resource
Meet the Highest IT Standards for Enterprise AV: 2nd Edition of Enterprise Magazine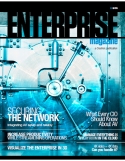 Learn about world-class Enterprise Management Solutions with this FREE download from Crestron that can help you solve the AV and IT integration problems you face every day.
Robert Archer
·
November 11, 2011
With projection video systems becoming increasingly popular, these technologies are popping up in a wider variety of environments.
The Danish company DNP Denmark's new Zenith screen is engineered for rear-projection system installations. DNP Denmark says its new 2.2-gain screen is designed to minimize hot spotting problems, while maintaining high levels of contrast and brightness. DNP adds the screen's tinted, anti-glare surface means that the material works with a variety of projectors, including a range of high light output projectors.
The Zenith can be used for large- screen installations in almost any type of install.
More About Robert Archer
Robert Archer has been covering the electronics industry for more than a decade, and before his work with EH Publishing, he worked at several local Boston newspapers.Get in Touch:

[email protected]

More by Robert Archer
Latest Resource
Everything the Technology Decision Maker Needs to Know About Microphones
Our document will give you the info you need to install the right microphones in the boardroom, lecture hall and on stage.