DSE 2012: New Digital Signage Software
Check out these digital signage software solutions showcased at Digital Signage Expo 2012
Photos & Slideshow
DSE 2012: New Digital Signage Software
Digital Signage News
27 Digital Signage Projects Win Gold, Silver & Bronze Apex Awards at DSE 2016
Canadian Financial Firm Invests in a Total AV System Upgrade
Acquia Boston Headquarters Opens with a Massive AV Installation
Lease or Buy: Visualization Strategies for Your Future Investment
Digital Signage Resource
Meet the Highest IT Standards for Enterprise AV: 2nd Edition of Enterprise Magazine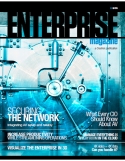 Learn about world-class Enterprise Management Solutions with this FREE download from Crestron that can help you solve the AV and IT integration problems you face every day.
TD Staff
·
March 12, 2012
Without software, digital signage is simply blank screens.

Digital signage software includes everything from content creation tools to the management software that assembles content to be sent to the display. Content may include stored text, images, and video, along with external feeds from news, live streams, advertising networks, along with messages, security updates and overrides, and more.
With so many ways to generate important display content, it's important to select a software program that will best fit the bill. Here is a closer look at some new digital signage software solutions that were on display at DSE 2012.
Latest Resource
Everything the Technology Decision Maker Needs to Know About Microphones
Our document will give you the info you need to install the right microphones in the boardroom, lecture hall and on stage.