Head-turning Transparent Displays
Refrigerator and window displays capture attendees' and manufacturers' attention alike.
Photos & Slideshow
Head-turning Transparent Displays
Digital Signage News
27 Digital Signage Projects Win Gold, Silver & Bronze Apex Awards at DSE 2016
Canadian Financial Firm Invests in a Total AV System Upgrade
Acquia Boston Headquarters Opens with a Massive AV Installation
Lease or Buy: Visualization Strategies for Your Future Investment
Digital Signage Resource
Meet the Highest IT Standards for Enterprise AV: 2nd Edition of Enterprise Magazine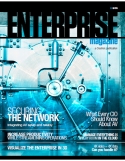 Learn about world-class Enterprise Management Solutions with this FREE download from Crestron that can help you solve the AV and IT integration problems you face every day.
Lisa Nadile
·
January 3, 2013
At the 2012 Digital Signage Expo (DSE), vendors and manufacturers were extremely bullish on transparent LCD displays, which showcase animation — including advertising and promotions — over a clear screen. The optimism is reflected in the industry's predictions. DisplayBank, an international market research firm for the display industry says that the transparent display market will grow to $900 million by 2015.
At DSE, most of the transparent displays shown were simple refrigerator and window applications. But the potential of these products as marketing tools was obvious.
"There are two kinds of markets. One is the window display and the other one is the showcase application. So in the case of a showcase application, like in a retail store — people can see through the display [to the window] and see the Coca Cola, Pepsi Cola inside. However on the surface they can watch the…advertisement or promotional message on the screen. That is today a very possible application," says Jun Joon, vice president and head of the Public Display Division, LG Display.
"That market is in the very beginning stages, but it will grow very, very fast. The showcase applications we will see this year," he says.
The second market is the window display in which store windows are actually replaced by LCDs. People walking on the street can see both the products being displayed and the additional advertisement or promotion, says Joon. This application is still in its infancy.
A Juxtaposition of Display and Advertising the First Stage
Aesthetics is the key metric to transparent displays. Text is not king here. Movement and color are the leading edge factors. How content and messaging are run is also important. Vendors will have to design their content for both the walkers (those passing by in 3 to 7 seconds) and the runners (1 to 2 seconds). Can the content capture the audience's attention without offending their sensibilities?
While these dynamic windows need some good planning, they don't always need to use high-end content tools, says Cris Derr, a marketing director at Planar. In describing content for Planar's transparent LCD named LookThru, he said all that is needed is a simple office application: PowerPoint.
"When the content is black in PowerPoint, it shows up black on the screen. When it's white, it shows up as clear. And then all gradients in between. There is no special software required to make this run," Derr says. "It really is literally a display. It has an HDMI input given by a media player. It can be Windows, it can be Apple, it can be Linux, it doesn't really matter," he adds.
These displays use ambient light, which also will shape the content that should be designed.
While LG, Samsung and Sharp are bringing their displays to the marketplace, despite its enthusiasm, the market itself will need to ensure the content and the applications are there to receive them.
Latest Resource
Everything the Technology Decision Maker Needs to Know About Microphones
Our document will give you the info you need to install the right microphones in the boardroom, lecture hall and on stage.