First LCD Display with Cloud-Based Crestron Connected Debuts
Mitsubishi's 46-inch LDT462V is now part of the Crestron Connected lineup.
Digital Signage News
27 Digital Signage Projects Win Gold, Silver & Bronze Apex Awards at DSE 2016
Canadian Financial Firm Invests in a Total AV System Upgrade
Acquia Boston Headquarters Opens with a Massive AV Installation
Lease or Buy: Visualization Strategies for Your Future Investment
Digital Signage Resource
Meet the Highest IT Standards for Enterprise AV: 2nd Edition of Enterprise Magazine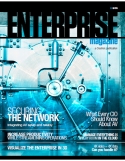 Learn about world-class Enterprise Management Solutions with this FREE download from Crestron that can help you solve the AV and IT integration problems you face every day.
TD Staff
·
June 7, 2012
Back in January, Crestron announced its cloud-based Crestron Connected initiative. Now, we have a screen to go with the plan.
Crestron says that Mitsubishi's 46-inch LDT462V LCD display is now part of the Crestron Connected family. This is the first Crestron Connected LCD flat panel.
The Crestron Connected initiative provides the framework for a distributed cloud-based control system. Creston embeds its control platform intelligence into a wide variety of source equipment, such as projectors, receivers—and now, an LCD. That perk ensures stability and consistent interoperability between devices on the network.
Designed for meeting rooms, digital signage and more, the LDT462V can be connected to any enterprise network using standard Ethernet cable and Crestron software. Otherwise, it has plug-and-play capability built right in. The display can then be monitored, managed and controlled using the free RoomView Express software or the server-based Fusion RV.
"We're establishing a unified communication scheme so all Crestron Connected devices can live harmoniously within a Crestron ecosystem, across multiple networks," says Steve Samson, Crestron's director of business development. "This is just the beginning. The cloud is where Crestron and our partner manufacturers are heading."
Latest Resource
Everything the Technology Decision Maker Needs to Know About Microphones
Our document will give you the info you need to install the right microphones in the boardroom, lecture hall and on stage.