The Fast Rise of Multi-touch Displays
Single touch interactive displays are so yesterday. We take a look at 20 multi-touch displays and technologies that are making their mark.
Photos & Slideshow
The Fast Rise of Multi-touch Displays
Digital Signage News
27 Digital Signage Projects Win Gold, Silver & Bronze Apex Awards at DSE 2016
Canadian Financial Firm Invests in a Total AV System Upgrade
Acquia Boston Headquarters Opens with a Massive AV Installation
Lease or Buy: Visualization Strategies for Your Future Investment
Digital Signage Resource
Meet the Highest IT Standards for Enterprise AV: 2nd Edition of Enterprise Magazine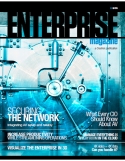 Learn about world-class Enterprise Management Solutions with this FREE download from Crestron that can help you solve the AV and IT integration problems you face every day.
TD Staff
·
May 17, 2012
"What's so great about the mouse, anyway?," New York Times technology columnist David Pogue asked two years ago. "How is it natural to drag a plastic box across a horizontal surface to move things on a vertical screen two feet away? How kludgy! How indirect! How Cro-Magnon!," he declared.
Unfortunately for Pogue, the touchscreen PCs he reviewed in that piece were clunky and lumbering. But a lot has changed since then, and today's multi-touch technologies have gotten leaner and faster.
The mice are getting scared.
Indeed, using a mouse to do your computing may eventually be a thing of the past. In the meantime, multi-touch interactive displays are fast emerging as viable alternatives on multiple platforms. As with all advancements, as the technology advances, the prices lowers and the previous methods seem increasingly limited.
As Microsoft Principal Researcher Bill Buxton notes in a recent essay on multi-touch technology, "if you can only manipulate one point… you are restricted to the gestural vocabulary of a fruit fly. We were given multiple limbs for a reason. It is nice to be able to take advantage of them."
Multi-touch technologies have been evolving for decades, but they really hit the mainstream
Latest Resource
Everything the Technology Decision Maker Needs to Know About Microphones
Our document will give you the info you need to install the right microphones in the boardroom, lecture hall and on stage.