Toshiba LED Wall Makes the Great Outdoors Even Better
The new display looks perfectly fine in 2D and really cool in 3D with passive glasses.
Digital Signage News
27 Digital Signage Projects Win Gold, Silver & Bronze Apex Awards at DSE 2016
Canadian Financial Firm Invests in a Total AV System Upgrade
Acquia Boston Headquarters Opens with a Massive AV Installation
Lease or Buy: Visualization Strategies for Your Future Investment
Digital Signage Resource
Meet the Highest IT Standards for Enterprise AV: 2nd Edition of Enterprise Magazine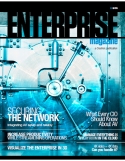 Learn about world-class Enterprise Management Solutions with this FREE download from Crestron that can help you solve the AV and IT integration problems you face every day.
Julie Jacobson
·
February 3, 2011
Mix outdoor entertainment with 3D TV, and what do you get? A giant new LED display from Toshiba.
During Integrated Systems Europe 2011, the company is demonstrating the technology for the first time.
Charley Bocklet, national sales manager for LED Display Systems, says the Toshiba product is unique for a few reasons.
Most 3D-capable LED systems are made for the indoors, while the Toshiba version is designed for outdoor spaces. More interestingly, the new display uses inexpensive passive 3D glasses so that companies don't need to worry about powering and distributing pricey active lenses.
The display looks perfectly fine in 2D and really cool in 3D with passive glasses…simultaneously.
During ISE 2011 — as long as you were watching from at least 20 feet away or so — the video was completely adequate and the 3D had a decent pop to it.
The secret is a four-color system (a la Sharp's Quattron) that blends RGB and amber LEDs.
"Imagine this in a big arena — you can watch with or without glasses," Bocklet says.
The system has yet to be deployed.
Almost as new as the 3D LED system in Toshiba's ISE booth is the company's 4mm LED wall, one of which was recently installed in the new TNT on NBA set at Turner Studio.
There, the 33-foot display allows producers to "change the backdrop of the set seamlessly," Bocklet says.
At ISE, even up close the picture looks pretty sharp, but step back just a few feet and it is crystal clear.
More About Julie Jacobson
Julie Jacobson, recipient of the 2014 CEA TechHome Leadership Award, is co-founder of EH Publishing, producer of CE Pro, Electronic House, Commercial Integrator, Security Sales and other leading technology publications. She currently spends most of her time writing for CE Pro in the areas of home automation, security, networked A/V and the business of home systems integration. Julie majored in Economics at the University of Michigan, spent a year abroad at Cambridge University, earned an MBA from the University of Texas at Austin, and has never taken a journalism class in her life. She's a washed-up Ultimate Frisbee player currently residing in Carlsbad, Calif. Follow her on Twitter @juliejacobson.Get in Touch:

[email protected]

More by Julie Jacobson
Latest Resource
Everything the Technology Decision Maker Needs to Know About Microphones
Our document will give you the info you need to install the right microphones in the boardroom, lecture hall and on stage.