The Benefits of Integrating Wayfinding with Digital Signage and Who's Using it Now
Leverage your digital signage network for maps and directions in buildings and campuses.
Credit: Source: Four Winds Interactive
Credit: Source: Four Winds Interactive
Photos & Slideshow
The Benefits of Integrating Wayfinding with Digital Signage and Who's Using it Now
Digital Signage News
27 Digital Signage Projects Win Gold, Silver & Bronze Apex Awards at DSE 2016
Canadian Financial Firm Invests in a Total AV System Upgrade
Acquia Boston Headquarters Opens with a Massive AV Installation
Lease or Buy: Visualization Strategies for Your Future Investment
Digital Signage Resource
Meet the Highest IT Standards for Enterprise AV: 2nd Edition of Enterprise Magazine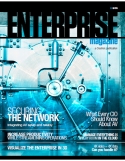 Learn about world-class Enterprise Management Solutions with this FREE download from Crestron that can help you solve the AV and IT integration problems you face every day.
Daniel P. Dern
·
November 1, 2013
"Wayfinding" refers to the tools and processes used to help people, well, find their way from a starting place to a destination, and possibly also help them get more information about the facility.
Old-school "analog" wayfinding includes printed signage, both permanent and per-occasion; paper maps, directions and asking somebody. But hardcopy can be out of date, incomplete, not detailed enough or not indexed in a way that lets us figure out our destination. Plus, the people we ask don't always know the answer.
I don't know about you, but I've spent way too much time being lost in convention centers, hotels, airports, hospitals, company headquarters, college campuses and other places where the GPS-enabled map/direction app on my iPhone wasn't helpful. This includes, at times, buildings of companies where I've worked — even when I've got my destination written out and checked the map on the wall. Or I have asked people for directions.
So I'm more than ready for tools like wayfinding digital signage that can save me time and frustration — and I can't be the only one..
Digital wayfinding for drivers (and passengers), bicyclists, pilots, etc. typically uses a mobile or embedded device, like a dedicated-purpose Garmin navigator or an app on your iPhone or Android smartphone.
This may yet come to pass for building and campus wayfinding. (Google, for example, is apparently already at work mapping university campuses and some buildings; I have a vision of fleets of smartphone-equipped iRobots maze-solving their way around these facilities.)
Meanwhile, organizations are turning to digital signage as a better way to provide wayfinding to tell me — and others — where to go and how to get there when we're on foot in buildings and on campuses.
Who's Using Digital Wayfinding Signage?
Like digital signage in general, wayfinding digital signage is being put to use in a growing range of markets and venues, notably meetings and hospitality (convention centers, hotels, and resorts); colleges and universities; hospitals and other medical facilities; and business offices and public spaces, residential complexes and other facilities.
This includes both within individual buildings and for multi-building campuses. Additionally, retail stores and malls are taking advantage of wayfinding digital signage…and even cruise ships are using digital wayfinding signage.
Visix, for example, reports providing wayfinding digital signage for higher-ed institutions including MIT, Harvard and the University of Iowa, along with hospital/medical and hospitality sites, according to Jill Biazzo, creative services project manager forVisix.
"Hotels are increasingly using digital wayfinding signage," says Dave Rathbun, vice
Latest Resource
Everything the Technology Decision Maker Needs to Know About Microphones
Our document will give you the info you need to install the right microphones in the boardroom, lecture hall and on stage.