Who Needs an iPad App?
Corporate TechDecisions was designed with today and the future in mind.
Unified Communication News
Four Tips For Maximizing CPQ ROI
Six Issues in Corporate Communications Going Into Enterprise Connect
Cisco and Microsoft Battle for Unified Communications Supremacy
HPE Focusing on the Edge of Internet of Things
Unified Communication Resource
Meet the Highest IT Standards for Enterprise AV: 2nd Edition of Enterprise Magazine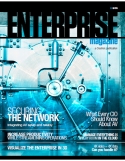 Learn about world-class Enterprise Management Solutions with this FREE download from Crestron that can help you solve the AV and IT integration problems you face every day.
TD Staff
·
December 28, 2011
There's nothing better than being able to build something from the ground up with no preconceived notions of what used to be. Such was the case when we set out to design the Corporate TechDecisions site.
Many editorial content sites are designed to support or extend the reach of their brand to an online audience. Often the form factor of the print product drives the look and feel of the online product. And as is the case for any online product, all need to play catch up each time a new online delivery device is rolled out, such as the iPad. You need an app for that.
Corporate TechDecisions was born as an online information resource. With that in mind, EH Publishing's web designer, John Brillon (or Brillon, as he is fondly called) designed our site with the iPad and smartphones in mind. "The navigation is altered to better support mobile/tablet browsers, which do not know about "hovering," including iPod, iPhone, iPad, Android, AndroidTablet, webOS, BlackBerry and RimTablet," says Brillon. The layout is optimized to display the optimum width on WebKit and mobile browsers that support the viewport meta tag, including android and iOS devices.

Our site renders and works beautifully on mobile devices right from the URL. By simply saving the URL to your home screen on an iPad, you'll have instant access and a neatly created app-look-alike button. While the site is loaded in Safari, tap on the "GoTo" icon at the top of the screen and tap, "Add to Home Screen." Voila!
It is rare to be presented with a clean slate on which to build something. More often, we are faced with needing to retrofit an existing technology to accommodate the new. With that in mind we want to build this new product for you and with you, so please share your tips and tricks that you have learned along the way while upgrading an existing system or building anew.
Latest Resource
The Technology Decision Maker's Guide to Physical Security
Our download gives you the basics on several physical security systems that you need to think about as the technology decision maker for your company.