X2O Portal Plays Nice with Polycom RealPresence Media Manager
The two companies are joining forces as part of X2O's Open Content Management Framework.
Digital Signage News
27 Digital Signage Projects Win Gold, Silver & Bronze Apex Awards at DSE 2016
Canadian Financial Firm Invests in a Total AV System Upgrade
Acquia Boston Headquarters Opens with a Massive AV Installation
Lease or Buy: Visualization Strategies for Your Future Investment
Digital Signage Resource
Meet the Highest IT Standards for Enterprise AV: 2nd Edition of Enterprise Magazine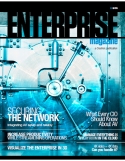 Learn about world-class Enterprise Management Solutions with this FREE download from Crestron that can help you solve the AV and IT integration problems you face every day.
TD Staff
·
May 23, 2012
X2O Media is joining forces with Polycom. According to a recent announcement, the X2O Portal is now fully integrated with the Polycom RealPresence Media Manager.
Users can tap into video assets stored in the RealPresence Media Manager from X2O's cloud-based content management tools, then schedule and deliver them to digital displays. The process is designed to simplify the content workflow, and is part of X2O's "Open Content Management Framework."
"The combination of these two powerful solutions provides exceptional ease of use as well as better ROI," said X2O Media President and CEO David Wilkins. "With X2O's browser-based content management tools, users can leverage video assets already stored in the RealPresence Media Manager to display stunning visuals on digital displays, which improves the content workflow significantly by eliminating duplication of effort."
The Polycom RealPresence Media Manager is designed to streamline everything associated with producing and distributing media over existing IT infrastructures. It supports the complete content lifecycle of all video assets—from capture to content management to viewer access to delivery.
On X2O's end, the X2O Portal is a cloud-based platform for managing and scheduling content, such as images, videos, graphics, and live data. It also has a user-friendly, browser-based interface, designed to reduce the resources and time required to set up, control, and maintain a digital signage network.
Latest Resource
Everything the Technology Decision Maker Needs to Know About Microphones
Our document will give you the info you need to install the right microphones in the boardroom, lecture hall and on stage.